Writing Contests (& Publishing Scams)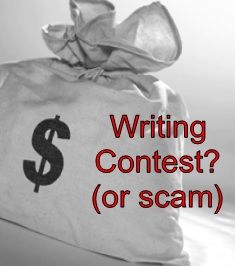 Today I got an email asking me to enter the "prestigious eLit book contest" and immediately my suspicions were aroused; I am not on their list.
Whenever you have suspicions, or even if you don't, check every contest out before you enter (most have entrance fees). For legit contests, they are paying their judges, costs for administration, marketing, prizes, etc. But there are plenty of scams. The way I test for scams is to put the "name of the contest" and the word "scam" and also "reputation" behind it into Google and see what comes up.
This time I got this great blog site called Writers Beware put out by the Science Fiction & Fantasy Writers of America. Writers Beware's purpose is to debunk these kind of scams along with the many, many, publishing scams. Here:
http://accrispin.blogspot.mx/2012/03/when-writing-contest-has-hidden-agenda.html
is the blog article I found out more about the contest I had been "invited" to, and
www.writerbeware.com is put out by the Science Fiction & Fantasy Writers of America
Check it out.
And yes, the eLit was a scam from a company that does many of them and they are changing names all the time, so even if it is not listed as a scam if you can't find several people vouching for the contest then DON'T DO IT!
In fact, after I told a few people about my Writers Beware I did get a person who admitted they had entered a competition and lost a good packet of money and never heard a thing but it was possibly legit. Most contests will email entrants and say who did win, but it depends on the contest. Even legit contests can be long shots. I only enter legit contests I truly think I can win and have a real plan of what to do with the "prize" and the publicity should I win or place.
Since someone recently asked about the Amazon Break-through Novel Award, this is what one comment on the WB site said that I would agree with.
Amazon Breakthrough is legitimate and popular (and free). But–assuming that an entrant has a marketable manuscript–I think the odds of getting a publishing contract via this contest are probably lower than by simply submitting in the normal way, given the vagaries of crowdsourced judging and the enormous number of entrants.
Remember you do much of your own marketing for a book even with a publisher and a contract. Unless they are giving a you a huge, six figure advance, and that is pretty damn rare and reserved for quasi famous people, you have to be very active in your own promotion. So learn how to do that, before you chase competitions and publishing "contracts." Going to the Bestsellers Weekend is one way to keep on top of the latest in promotion for indie authors and even for traditionally published authors.
You have my permission to republish this email in your blogs! Spread the word to beware but do keep on writing!